E-file your taxes,
your way
Do it yourself, get expert help, or hand it off start to finish.
Let's e-file your taxes and get them done right.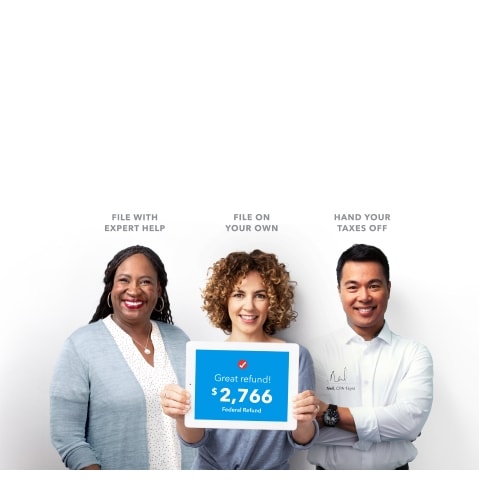 Taxes done right, however you choose
No matter your situation, we have a tax solution for you.
E-file with confidence and get your maximum
refund, guaranteed.
File your own taxes
Just answer simple questions, and
we'll
guide
you through filing
your taxes.
Live experts
can help
Get advice and answers as you go, with a
final
expert review before you file.
We do your taxes for you
Have a dedicated tax expert handle everything,
from start to finish.
What do you get when you e-file with TurboTax?
More federal returns are prepared with TurboTax than any other tax preparation provider, totaling over 40 million federal tax returns from last year alone. E-filing your online tax return with TurboTax means you're not only working with the leader in tax prep, but that you also get:
Your taxes done
right, guaranteed

Our calculations are 100% accurate and up to date with the latest tax laws to give you complete confidence when you e-file your taxes. Otherwise, we'll pay you any IRS penalties.

Your maximum
tax refund

We'll review your tax return and search 350+ tax deductions and credits to make sure you get every dollar you deserve, guaranteed, based on your
unique situation.

Step-by-step
guidance

Just answer simple questions about your life. We'll walk you through every step from there, do all the math for you, and put your info in the right place before
you e-file.

A big jump start

Sprint to the finish line by easily importing your W-2 info with our W-2 snap & auto-fill feature. Just snap a photo of your W-2, verify your data, and we'll automatically put your information into all the right tax forms so you don't have to.

The green light
to file

CompleteCheck™ will run a comprehensive review of your tax return before you file your taxes online, and will walk you through any changes to make sure nothing gets missed.

Automatic data
transfer
next year

When you use TurboTax year after year, it gets even easier. As a returning customer, we'll automatically transfer information from the previous year to save you time and help
ensure accuracy.
See why millions e-file with TurboTax every year
Rated stars by our customers out of 5
TurboTax works fine

"TurboTax made it easy to efile taxes. It walks you through the filing process and prompts you along
the way."

TurboTax makes everything easy

"My 9th year of filing my taxes with Turbotax and I have never had a problem! Love that Turbotax retains my filing information so I don't
have to start from scratch each year!
Efile makes everything easy.
Thanks, Turbotax!"

Seamless as usual

"As always TurboTax is the easiest way to prepare and eFile for me each year. About an hour from start to finish, with several reviews, and
I'm done!"
*Actual customer testimonials. Photos are illustrative only.
Secure delivery
to the IRS

E-file is the most secure way to get your return delivered to the IRS. That's why all TurboTax returns are e-filed automatically, unless you choose to print and send
by
mail specifically.

Email confirmation
from the IRS

Once you e-file, the
IRS will send you a confirmation email to give you peace
of mind that your tax return has
been received.

Your fastest
tax refund

E-filing your tax return and using direct deposit is the easiest and fastest way to get your refund. 90% of taxpayers who e-file typically receive their refund within 21 days.