Count on America's #1 tax prep provider
TRUSTED

38 million

People trusted us to get their taxes done right last year

MAX REFUND

$113 billion

Total tax refunds our customers got last year

TOP-RATED

4.7/5

Rated by people who switched to TurboTax from a different filing method
We do your taxes for you
Have a dedicated tax expert do your taxes
from start to finish, usually in a day.
Live tax experts can help
Get advice and answers as you go, with a final expert review before you file.
File your own taxes
Just answer simple questions, and
we'll
guide
you through filing
your taxes.
Taxes done for you, usually in a day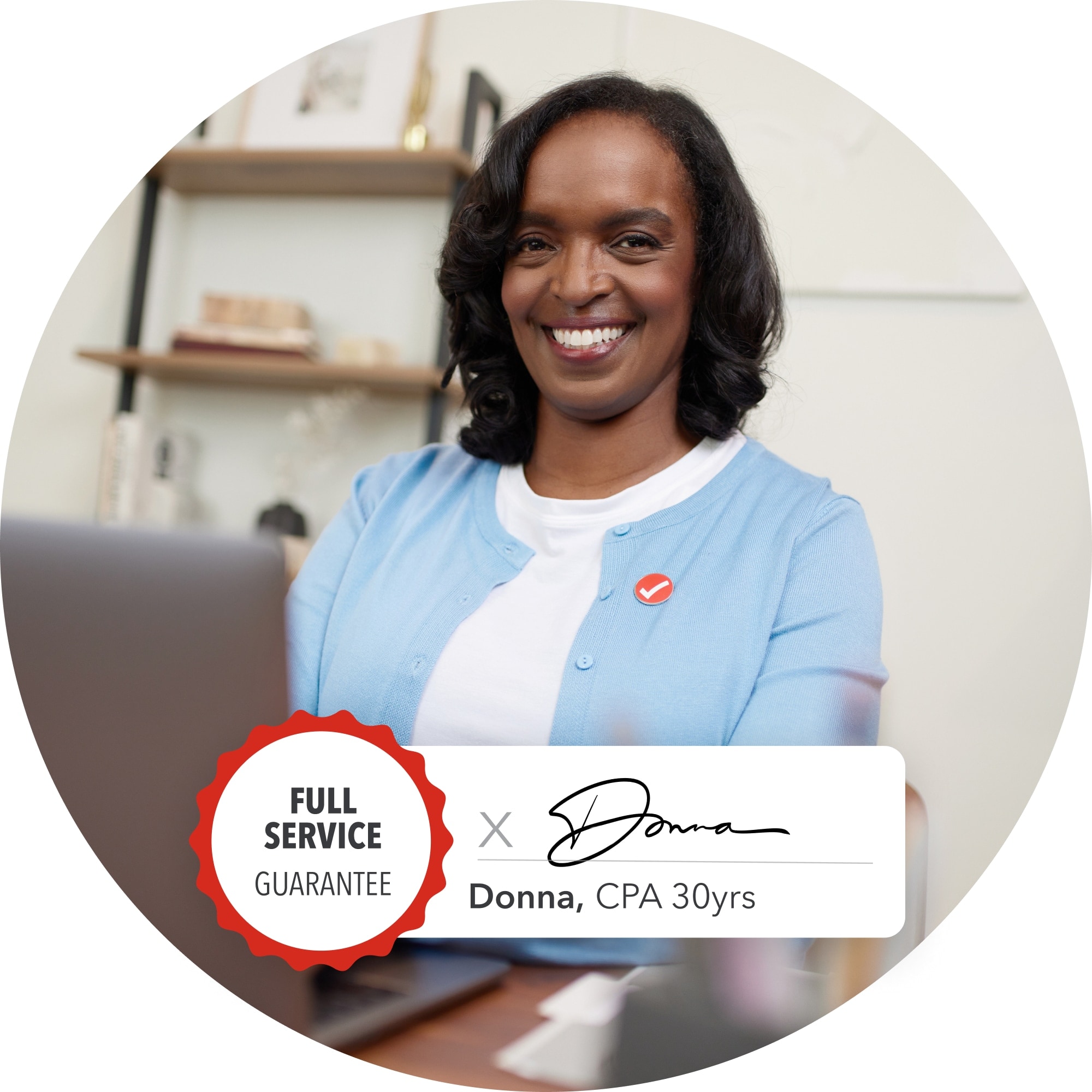 Experienced
Tax experts and CPAs with years of experience do your taxes for you
Real time
Work with your tax expert in real time and avoid the "wait and wonder"
Guaranteed
Know you'll get every dollar you deserve with our Full Service Guarantee
Trusted
Get matched with a tax expert you trust and work with them again next year
TurboTax experts are the best

"The thing I like about TurboTax is the ease of working on taxes online from home and still having immediate access to live experts when I need them. Being able to talk directly with tax preparers is the primary reason I continue to file with TurboTax."

Caldeb, California

2023 Live Assisted Self-Employed

TurboTax is awesome

"I'm so happy I switched over to TurboTax. It was easy to do my online tax preparation."

Motherstar, New York

2023 TurboTax Free Edition

First time filing using full service

"Lots of things changed this year for me so I needed tax help. I got my first call no more than 5 minutes after submitting my documents using full service. My tax preparer was very kind and made sure I had everything ready for my tax expert to review. My call with the expert lasted about 15 minutes and in that time she answered all my questions. My tax return was filed and ready for my review within 4 hours."

Andy152, Texas

2023 Full Service Basic

TurboTax for life

"I have used TurboTax for a number of years, it's fuss-free and convenient. When I used a TurboTax tax expert last year, the tax preparer was very knowledgeable and resolved a question right away. I prefer TurboTax over any tax software I've used in the past. I'm with TurboTax for life."

Tricia717, Maryland

2023 Live Assisted Deluxe

Way to go every year

"TurboTax has great CPAs online when needed for live or virtual chats for when you need help filing your taxes. Overall it was easy flowing through the tax software - itemizing all deductions, and finding ones that you have not even thought of."

Scottt123, Oklahoma

2023 Live Assisted Self-Employed

TurboTax is great

"I am so happy I came to TurboTax because they really saved the day. I had always gone to H&R Block - but this year I had enough and I'm happy I did because I am super happy with TurboTax Full Service."

Mo816, California

2023 Full Service Deluxe

Easy and fast

"I love doing my own taxes. I love that TurboTax has online help if I need it. I know that any question, no matter how confusing it is, the tax experts will get me the answers I need to correctly file my taxes."

Ashely881, New Mexico

2023 Live Assisted Deluxe

TurboTax made my life easier

"My TurboTax expert helped me step by step and made sure I had help any time I needed. I felt so much confidence doing my taxes online for the first time."

Moazzma, New York

2023 Live Assisted Basic

TurboTax is very user-friendly

"TurboTax is very easy, and clear-cut. I was dreading doing my own taxes, especially online. However, TurboTax has a step by step filing process. I felt as if a professional tax preparer was holding my hand the whole time."

Cloudy72, California

2023 TurboTax Deluxe

Good for crypto

"TurboTax worked well for me and I have been using them for years. I bought into crypto this year and it made my taxes more complicated. Thankfully I was able to synchronize all my crypto exchanges and uploading them making my taxes easy."

Nathronm, Oregon

2023 TurboTax Premier

TurboTax is great

"I have been using H&R Block for years and finally made the switch per a recommendation. I am very impressed and will be using TurboTax from now on. My tax expert, Kristen, was fantastic and helpful!"

Angelo7713, Arizona

2023 Full Service Self-Employed

TurboTax is my go-to now

"This is my first year filing my tax return online. TurboTax was amazing- the tips & useful information made it so easy."

Devon90, North Carolina

2023 TurboTax Deluxe
*Actual customer testimonials.
 

We'll find every tax deduction and credit you qualify for to boost your tax refund.

 

Get a comprehensive review of your online tax return before you file so you can
be confident nothing
gets missed.

 

Our calculations are 100% accurate on your tax return, or we'll pay any
IRS penalties.

 

Got married? Had a baby? Bought a home? TurboTax can help find you any new tax deductions and credits.

 

Every personal TurboTax return is backed by our Audit Support Guarantee for free guidance from a trained
tax professional.

 

File taxes electronically (e-file) and get email confirmation when your tax return
is accepted.