TurboTax Premier
Investments & rental property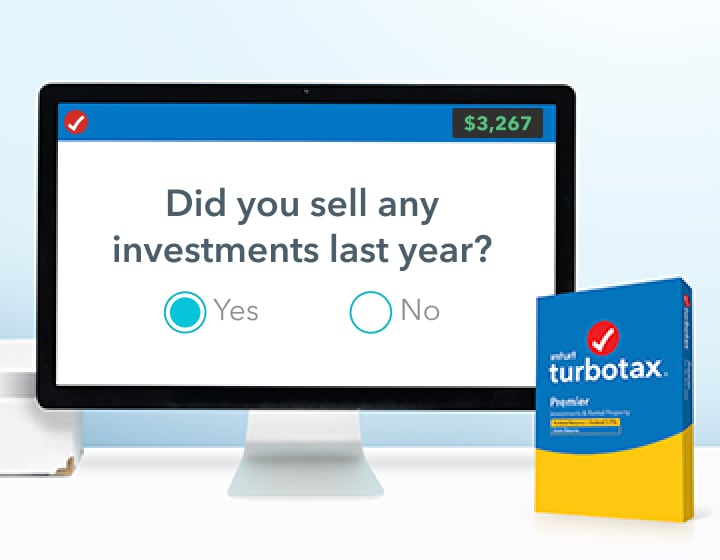 Why use TurboTax Premier?
Import investment info

We can automatically
import investment info
from participating
financial institutions.*

Guidance and support with
employee
stock plans

Sold employee stock? We'll automatically determine your correct basis for shares purchased—even at different times or
different prices.

Maximize your
IRA savings

Retirement tax help and IRA tool show you how to get more money back this year and when you retire.

Maximize next
year's refund

Understand your tax history and know your "tax health" with expert tips
to help
refund
next year.

Set up
new rentals

Get step-by-step guidance setting
up new rental properties and determining the fair market rent value.

Answers as
you go

Free U.S.-based product support and easy-to-understand answers
online 24/7.
Product activation required via Internet. Download option requires free online Intuit account. Windows 7 not supported,
click here for full system requirements
What customers are saying about
TurboTax Premier CD/Download
Me? I
love my TurboTax...

"Whether you are a beginner or a tax pro, TurboTax will ask the right questions, give you the best advice, and minimize the time you spend on taxes each year."

MommaJeanT -
Lawton, OK

Taxes made
easy for
the
complex family

"I have used TurboTax for the last 9 years. I have had rental property, short and long term capital gains, as well as a child start college. TurboTax has always helped me find situations that I would
have missed."

NomadicNirav -
Florida

Turbo Excellent

"It is a great
tool for taxes. Recommended to others who found it very easy to follow and appreciated greatly customer support from TT with CPAs and specialists. Made it filing taxes stress free and easy
to understand."

Ashok1802 -
Michigan
*Actual customer testimonials. Photos are illustrative only.
We search
over
350
tax deductions

We find every tax deduction and credit you qualify for to get you the biggest tax refund, guaranteed.

We double-check
your
tax return

We run through thousands of error checks and double-check your tax returns as you go to help make sure there are
no mistakes.

100% accurate calculations

Our calculations are 100% accurate so your taxes will be done right, guaranteed,
or we'll pay you any
IRS penalties.

---
---
Curious if TurboTax CD/Download is right
for you?
---
Compare it side-by-side with
TurboTax Online.