TurboTax Live Premier
File investment taxes, including crypto and rental property with unlimited tax advice and an expert
final review.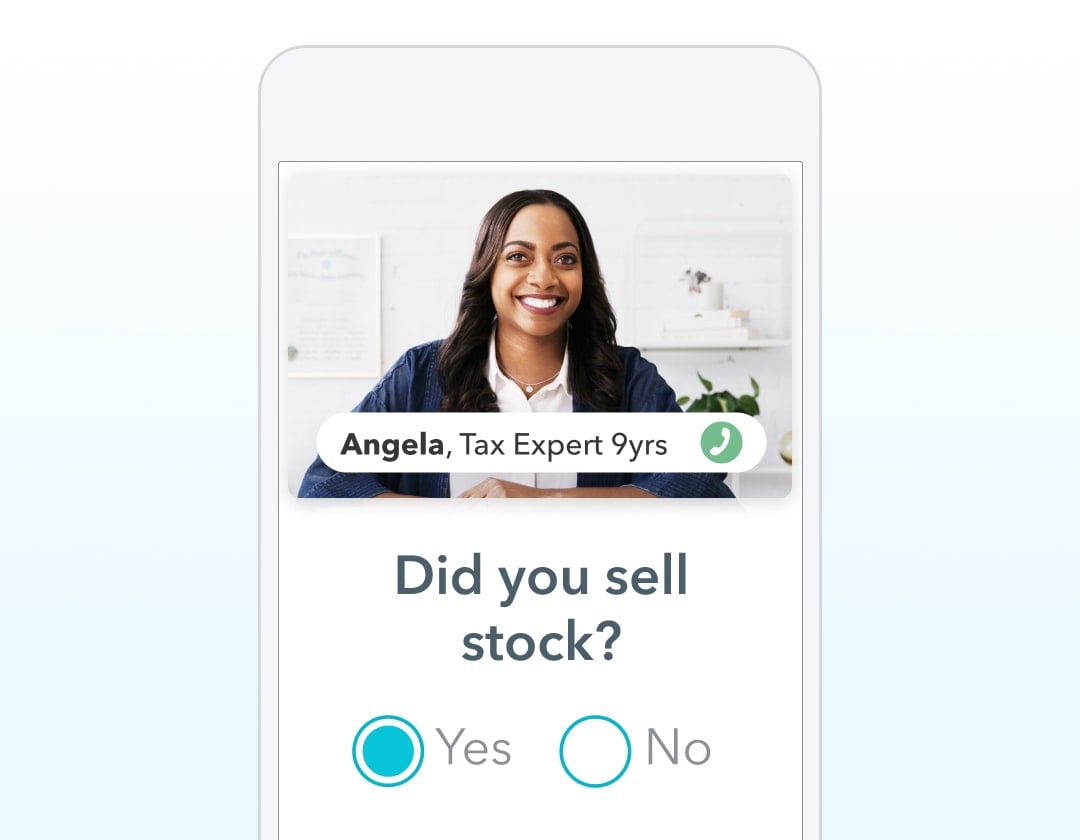 Why use TurboTax
Live Premier?
Report investment income with automatic import from hundreds of financial institutions and get unlimited tax advice from real tax experts. Also helps you calculate capital gains/losses and even set up new rentals and
report depreciation.
Ideal for stocks, cryptocurrency, home refinancing, and more

Landlords are covered,
from rental
setup to depreciation

Every dollar
you deserve, guaranteed

Talk live to tax experts
on demand

Get an expert review
before
you file

An expert can do your taxes
for you
Learn more
Expert help on demand, so you
can file with
100% confidence
All tax advice, answers, and
reviews are guaranteed


1. IT'S EASY TO GET YOUR TAXES
DONE RIGHT
We'll ask basic questions about you and your tax
situation. And, if you ever need tax advice, simply select
the Live help button to connect with
an expert.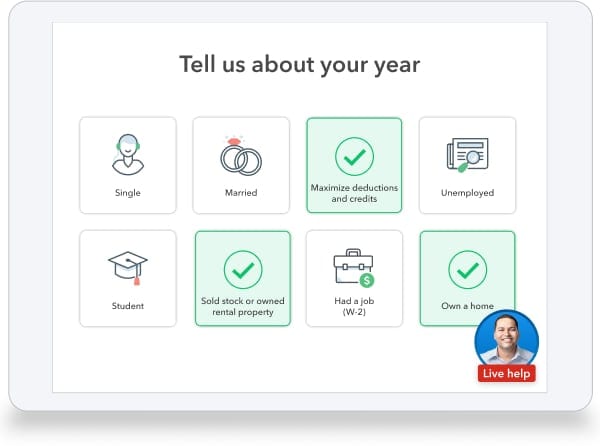 2. YOU'RE NEVER ALONE WITH EXPERTS IN
YOUR CORNER
Our tax experts are there whenever you need them, including nights and weekends. Get unlimited tax advice and answers as you do
your taxes.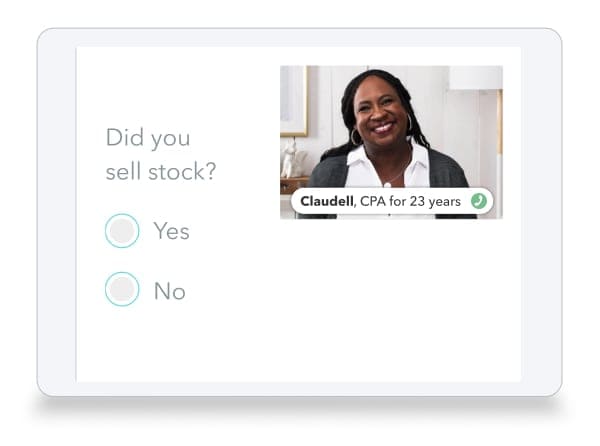 3. A FINAL REVIEW BEFORE
YOU FILE
A tax expert can review your return before you file,
so you can be confident that your unique tax situation is handled right.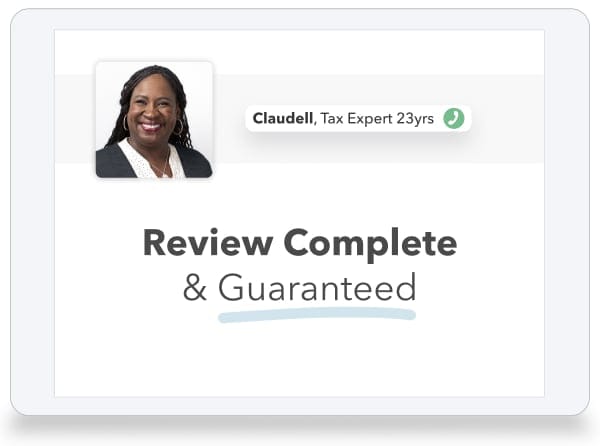 My go to

"Have used Turbotax for years, Love the help with our returns, such a help with rental deductions
and depreciation."

Julie84 -
MI

Can't do it without TurboTax

"My tax returns used to be simple, and TurboTax was my way to free file. When my tax returns got more complicated, TurboTax makes it easy to deal with multi-state returns with complicated dates and various capital gains taxes."

Sean223 -
FL

TurboTax - Great Product with
Crypto Income

"Intuit continues to set a high bar. TurboTax Premier was easy to navigate with helpful guides. Having crypto-related gains/income, I was able to quickly connect with both a tax and CPA expert to guide me through the entries without a hitch."

Brian Houston -
TX
*Actual customer testimonials. Photos are illustrative only.
All TurboTax Live Premier features
For investors & rental property managers
Quickly add
investment info

We can automatically
import investment info from thousands
of participating financial institutions.

Accurate investment tax reporting

A tax expert can help you report sales of stocks, bonds, and mutual
funds, plus calculate capital gains/losses.

Bitcoin and other cryptocurrencies
are covered

Import crypto transactions and we'll accurately
account for gains and losses, so you can file your taxes on
bitcoin and
other cryptocurrencies.

Set up new rentals

Get step-by-step guidance from a real tax expert on setting up
new rental
properties and determining the fair market
rent value.

Guidance and support for employee
stock plans

Sold employee stock? We'll automatically determine your correct basis for shares purchased, even at different times or
different prices.
Also for individuals & families
Deduction finder

We'll review more than 450 tax deductions and credits to get you the biggest tax refund—guaranteed. Items you donated to charities get valued accurately
with ItsDeductible™.

Charitable donations

Make the most of your charitable donations, and know the value of what you donate
with ItsDeductible™.

Big life changes? We can help.

A tax expert can explain what things like buying a home, having a baby, or getting a new job will mean for your taxes.
Help & support
Talk to real tax experts
on demand

Expert help is at your fingertips with TurboTax Live—just select Live help to share your screen and get a final review of your return when you're ready
to file.

Product support

Our TurboTax product specialists will provide customized answers to your questions and guide you by drawing on
your screen.*

Expert final review

Be 100% confident by having a tax expert review your return before you file to make sure everything's done right.

Full Service
optional upgrade

Have a dedicated tax expert do your taxes for you by upgrading to Full Service at any time.
All TurboTax products are easy to use & guaranteed accurate
No tax knowledge needed

TurboTax guides you step by step as you prepare
your taxes.

Anytime, anywhere

Finish your tax return in one visit or do a little at a time. We automatically save your progress as you go, so you can pick up where you left off from
any device.

No credit card? No problem.

Instead of pulling out your wallet, simply pay for TurboTax from your federal refund
(fees may apply).

See your tax refund in real time

We'll always show you your refund status (or taxes due) as you go, so you'll always know where
you stand.

Automatically add your
tax forms

Import your W-2 form over 1 million companies or snap a photo to easily upload. Either way, get a big jumpstart on your
tax prep.

Get the fastest possible tax refund

Electronic federal and state tax return filing with direct deposit will get you your tax refund ASAP.

Security is built into everything we do

You can easily save time by importing a PDF of last year's tax return from other major tax
prep companies.
Commonly Filed Tax Forms and Schedules
Self-Employed
–
Self-Employed Live
Other Tax Forms and Schedules
Self-Employed
–
Self-Employed Live
Minimum Operating Systems and Browsers
Windows
Windows 10.x

Firefox 68.x
Edge 17
Chrome 74.x
Opera 64.x

Windows 8.1

Firefox 68.x
Edge 17
Chrome 74.x
Opera 64.x

Windows 8

Firefox 68.x
Edge 17
Chrome 74.x
Opera 64.x

Windows 7

Firefox 68.x
Edge 17
Chrome 74.x
Opera 64.x
Mac OS 11.0
(Big Sur)

Safari 14.x
Chrome 83.x
Firefox 77.x
Edge
Opera 64.x

Mac OS X 10.15.x (Catalina)

Safari 13.x
Chrome 77.x
Firefox 70.x
Edge
Opera 64.x

Mac OS X 10.14.x (Mojave)

Safari 13.x
Chrome 74.x
Firefox 68.x
Edge
Opera 64.x

Mac OS X 10.13.x (High Sierra)

Safari 13.x
Chrome 74.x
Firefox 68.x
Edge
Opera 64.x

Mac OS X 10.12.x (Sierra)

Safari 12.x
Chrome 74.x
Firefox 68.x
Edge
Opera 64.x

Mac OS X 10.11.x (El Capitan)

Safari 11.x
Chrome 74.x
Firefox 68.x
Opera 64.x

Mac OS X 10.10.x (Yosemite)

Safari 11.x
Chrome 74.x
Firefox 68.x

Mac OS X 10.9.x (Mavericks)
Frequently asked questions
You don't need anything but your email address to get started with TurboTax. Just answer a few simple questions and you're on your way.

You don't even need to have your W–2s or 1099s—we can import that information directly from more than a million participating employers and
financial institutions.

For more complex tax situations you may need additional documents, like mortgage statements or other detailed financial information. But since we save your return as you go, you can finish anytime.
With TurboTax Live, you get access to tax experts with an average of 11 years experience preparing tax returns. It's like bringing the tax store to your
home computer.

Not only that—TurboTax always double-checks your return for errors as you go, and before you file your taxes. We also guarantee our calculations are 100% accurate, or we'll pay you any IRS penalties plus interest.

If you have questions about how to use TurboTax, just ask us. We have knowledgeable agents available by phone* or live chat to answer any questions you may have.
Our team of tax experts has an average of 11 years experience. They can handle all kinds of tax situations, from simple
to complex.

When you connect live with an expert, you'll see their specific certifications. To connect, just select Live help and set up a call or talk via chat. TurboTax Live is an unlimited service, so you can have as many sessions as you need to get your taxes done right.
Yes. We offer free one-on-one audit guidance year-round from our experienced and knowledgeable tax staff. We'll let you know what to expect and how to prepare in the unlikely event you receive an audit letter from the IRS.

If you've already received a letter from the IRS for a return you filed with TurboTax, please review our Audit Support Guarantee for instructions on how to receive FREE step–by–step audit guidance and the option to connect with an expert.

We also offer full audit representation for an additional fee with MAX Defend
& Restore.
We search over 450
tax deductions

We find every tax deduction and credit you qualify for to get you the biggest tax
refund, guaranteed.

100% Accurate Expert
Approved Guarantee

If you pay an IRS or state penalty (or interest) because of an error that a TurboTax expert made while providing topic-specific tax advice, a section review, or acting as a signed preparer for your return, we'll pay you the penalty and interest.

100% accurate calculations

Our calculations are 100% accurate so your taxes will be done right, guaranteed, or we'll pay you any
IRS penalties.