Ever wondered how much people pay in taxes in other countries? Interact with the infographic below to compare personal income tax rates around the world. You may be surprised by which countries have the lowest and highest income tax rates!
Click on the image below to launch the interactive infographic.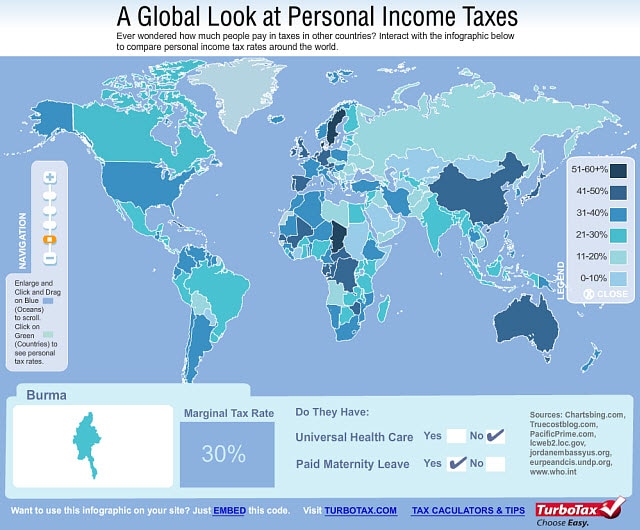 With TurboTax Live Full Service, a local expert matched to your unique situation will do your taxes for you start to finish. Or, get unlimited help and advice from tax experts while you do your taxes with TurboTax Live Assisted.

And if you want to file your own taxes, you can still feel confident you'll do them right with TurboTax as we guide you step by step. No matter which way you file, we guarantee 100% accuracy and your maximum refund.
Created by Infographic World
Want to use this infographic on your site? Just embed the following code:
<p><a href="http://images.turbotax.intuit.com/iqcms/marketing/lib/fun/world-taxes/turbotaxworld.html"><img width="640" height="535" alt="A Global Look at Personal Income Taxes - Interactive Infographic by TurboTax" src="http://images.turbotax.intuit.com/iqcms/marketing/lib/fun/world-taxes/world-taxes-640.jpg" /></a></p><a href="http://turbotax.intuit.com/">Get Your Maximum Tax Refund</a> with TurboTax