TurboTax customer reviews
---
"TurboTax was so easy,
to use. The guarantee
of
accuracy makes me feel
so assured."





Slottie | Georgia
Read unedited
TurboTax reviews
Every year, we help more than 30
million people
file their taxes.
Thousands of them have shared
their TurboTax experience.

Read unedited
TurboTax Live reviews
TurboTax Live features advice and
guidance
from real tax experts. See what
customers had
to say about
their experts.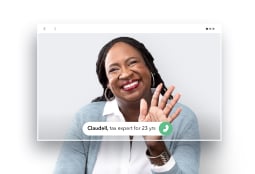 Here's what our
customers are saying
Choose the tax situation you want to learn
more about, and then you'll be able to sort
through
customer reviews to find the ones
that are closest to your situation.
Love TurboTax!

"It's so easy to use and convenient, even beginners
to the tax world can feel like a pro! TurboTax gives you peace of mind knowing that your
taxes are done right the first time! Appreciate the FREE e-filing version
so much!"

My expert was amazing

"This year's tax return experience was phenomenal! It was easy, and the customer services and CPA's were very knowledgeable and extremely courteous, kind and understanding. I give TurboTax two enthusiastic thumbs up and highly
recommend them."

Turbotax has me covered

"TurboTax gave me all the tools I needed to file my taxes with confidence. My wife and I both have freelance businesses… TurboTax made it easy to make the proper claims and deductions. I
love TurboTax!"
*Actual customer testimonials. Photos are illustrative only.
First time user,
worked awesome!

"TurboTax made doing my taxes myself fairly stress free. Made uploading investments, retirement, even crypto a relative cinch! You feel confident after filing that it was done right! If you have questions, they have people you
can ask."

I have been using TurboTax for the past
20 years.

"TurboTax is very fast and easy. Having access to CPA to help me navigate through the complex world of investments was extremely useful."

Quick, Convenient, Supportive

"As a young adult, taxes can be overwhelming - especially when you're doing new things like buying a home or making money on investments. TurboTax provided me with a huge sense of relief while filing my taxes and made the process quick
and easy."
*Actual customer testimonials. Photos are illustrative only.
Very thorough

"I've used TurboTax for the past 7+ years. I believe it's very thorough when it comes to looking at every component regarding income, expenses, etc. Also, it makes one more aware of the things you need to keep track during the year and be more mindful of how to manage and use
your money."

Very Helpful and easy
to use

"This was my first time using the Turbo Tax Self Employed and I am so happy that I did! my Quickbooks information was easily transferred and the step by step deductions were easy to follow"

Thank You TurboTax!

"Even as a self-employed person and I'm utterly allergic to paperwork. If TurboTax can guide me through tax season, they can definitely
guide you."
*Actual customer testimonials. Photos are illustrative only.
Great for students!

"TurboTax is quick and easy to use, allowing me to do my taxes in less than an hour! I would advise any students to use TurboTax for all of their filing."

Turbo Tax was easier than
I thought!

"I have never filed my taxes and I thought it was going to be hard and take hours but I was completely wrong. TurboTax was so easy to use and I got everything done very fast! I definitely recommend Turbo Tax to all college students who need help filing
their taxes!"

Easy

"peasy lemon squeezy, highly recommend to
any students"
*Actual customer testimonials. Photos are illustrative only.