---
OVERVIEW
Join CPA and TurboTax tax expert Lisa Greene-Lewis for a review of the essential tax dates you need to know to stay on track.
---
Video Transcript
[MUSIC PLAYING] TRACY BYRNES: So there are a lot of deadlines this time of year. The big one of course, usually April 15th, it's not this year. So you need to understand why, and what other deadlines that are really important for you. Lisa Greene-Lewis, CPA and TurboTax expert is with us right now. OK, so Lisa, first and foremost, it's not April 15th, right?
LISA GREENE-LEWIS: Right. The tax deadline is April 18th, so you have a little bit more time. And that is because the 15th, which is the usual deadline, falls on a holiday.
TRACY BYRNES: Right. So you at least have the weekend to get it done because then the return is due on Monday. You also though have quarterly estimates due on that Monday the 18th as well, don't you?
LISA GREENE-LEWIS: Right. So if you're self-employed, you're going to have the tax year 2021 deadline of April 18th. And then you also have your first quarterly estimated tax payment deadline on that same day.
TRACY BYRNES: Right. And I suppose also if you're a regular employee whose income comes in irregularly, you might be making estimates as well. But there are other estimated dates as well, what are they just so that we know throughout the year?
LISA GREENE-LEWIS: Right. So the second quarterly tax payment for tax year 2022 is due June 15th, and then the third one is due September 15th, and then the final one is January 17th, 2023.
TRACY BYRNES: So just as a reminder, four of them, you're supposed to make four estimated tax payments. Get out the checkbook. The other thing too, and we'll talk about this more in another video, but the extension deadline, typically October 15th, it's actually not again on the 15th is it?
LISA GREENE-LEWIS: Right. That deadline is October 17th this year.
TRACY BYRNES: So you have six months if indeed you need to extend your tax return. As always know the money is due even though the return can be extended, right?
LISA GREENE-LEWIS: Right. Right. Extension is not an extension to pay. It's just an extension to file.
TRACY BYRNES: All right, so mark your calendars. These are important dates. Lisa, thank you so much for taking the time with us.
LISA GREENE-LEWIS: Thank you for having me. [MUSIC PLAYING]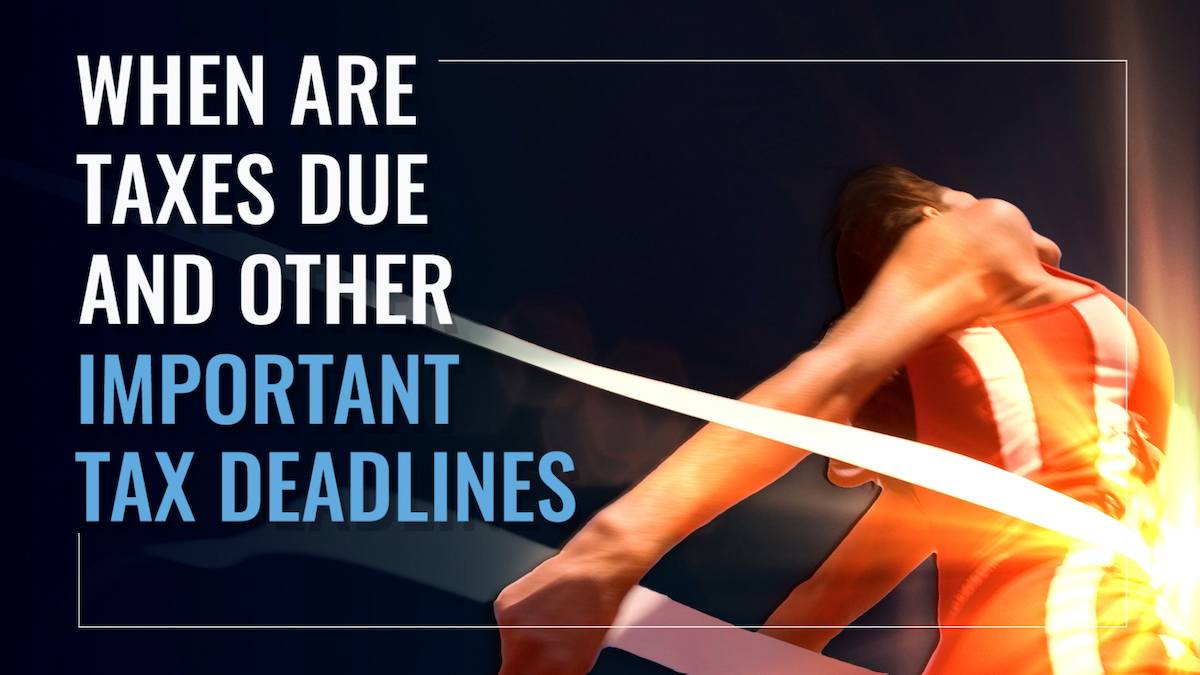 Let an expert do your taxes for you, start to finish with TurboTax Live Full Service. Or you can get your taxes done right, with experts by your side with TurboTax Live Assisted. File your own taxes with confidence using TurboTax. Just answer simple questions, and we'll guide you through filing your taxes with confidence. Whichever way you choose, get your maximum refund guaranteed.