Get $250-$2,000

†


typically within
an hour
of
IRS acceptance
File now and get your refund
advance as soon
as the IRS
opens and accepts your
return
(estimated mid-Jan).
No loan fees and 0% APR!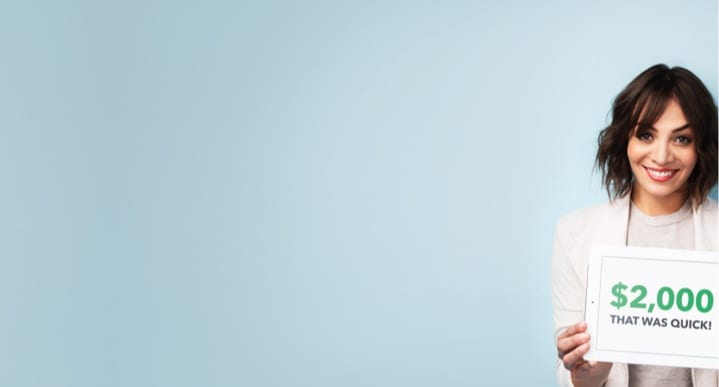 Real CPAs review your return.
Guaranteed done right.
Connect online with CPAs or EAs
for unlimited tax advice
and even
a
line-by-line review, so you can be
100% confident, guaranteed.
Learn more
Talk to real CPAs and EAs
on demand

Unlimited advice all year
TURBOTAX SELF-EMPLOYED
Every deduction found.
Every dollar you deserve.
The perfect tax solution for freelancers,
independent
contractors, and small
business
owners. Learn more
Uncover industry-specific deductions

Effortless expense tracking,
year-round
You answer simple questions.
We do all the math.

Simply tell us about your year, including what you do for income, if you have kids, if you own or rent, and if you made any charitable donations. We'll guide you through every step.

Capture your W-2
in a snap

Get a jumpstart on your taxes by snapping a photo of your W-2 with your phone or tablet, verify your data, and watch as your information is securely put into all the right forms
for you.

File with
confidence

We guarantee our calculations are 100% accurate. We run thousands of error checks as you go and double-check your tax return before
you file.
We search over 350
tax deductions

We'll find every tax deduction and credit you qualify for to get you the biggest tax
refund, guaranteed.

Every detail
reviewed

Get a comprehensive review of your online tax return before you file so you can be confident nothing
gets missed.

100% accurate
calculations

Our calculations are 100% accurate so your tax return will be done right, guaranteed, or we'll pay you any
IRS penalties.
Big life changes?
We can help

Got married? Had a baby? Bought a home? TurboTax can help
find you any new
tax deductions and
credits personalized to you and your
unique situation.

Guidance in case of
an audit

Every personal TurboTax return is backed
by our Audit Support Guarantee
for free
one-on-one
audit guidance
from a trained

tax professional.

Get your fastest
tax refund possible

File taxes electronically (e-file) and receive email confirmation from the IRS once your online tax return has been accepted. Then, easily track your tax return on your phone with our TurboTax mobile app to see when your refund will hit
your bank account.
Remarkably simple

"The W-2 transfer made the task of
doing my taxes remarkably simple.
Thanks TurboTax!"

Painless process!

"I've received better support, bigger refunds, and better peace of mind with TurboTax. Also, the live help is amazing so I don't feel alone when I have a question!
Thanks again TurboTax."

Great Service

"I talked with a live CPA and was very glad that I did. She answered all of my questions and saved me a lot
of money."

Easy peasy

"I waited until the last minute and feared that filing would take a long time. It took 20 minutes! It was so easy. Thank you."

hannahbananaog

Portland, OR

Best online tax service

"I've never filed taxes any other way. The free services are extensive and the paid ones are extremely worthwhile. TurboTax is simply the best way to do taxes stress-free and securely."

Refund 101

"It removes all the anxiety behind tax season knowing I can do this myself with the confidence of it being quick, accurate, maximized, and plain done right. Highly recommended! Unless you don't like easy…"
*Actual customer testimonials. Photos are illustrative only.
Your security.
Built into everything we do.

Here's how
†
Offer details and disclosures for Refund Advance Program
If you're receiving a federal refund, you could be eligible for a Refund Advance on a Turbo® Visa® Debit Card issued by GreenDot Bank, Member FDIC. If approved, you will receive temporary card info for online use within 48 hours of the IRS accepting your e-filed federal return. This temporary card info will work for 15 days or until you activate your physical Turbo® Visa® Debit Card, which will arrive in 5 to 10 business days of IRS acceptance and loan approval. 0% APR & $0 loan fees. This offer is available until February 7, 2020, or until available funds have been exhausted, whichever comes first. Availability subject to change without further notice.


Refund Advance is a loan based upon your anticipated refund and is not the refund itself. To apply for the Refund Advance, you must file your taxes with TurboTax. Availability of the Refund Advance is subject to satisfaction of identity verification, certain security requirements, eligibility criteria, and underwriting standards. Refund Advance is provided by First Century Bank, N.A., Member FDIC, not affiliated with Intuit or Green Dot Bank, Member FDIC.


Separate fees apply if the taxpayer selects a Refund Transfer. A Refund Transfer is not required for the Refund Advance loan.


Not all consumers will qualify for a loan or for the maximum loan amount. If approved, your loan will be for one of six amounts: $250, $500, $750, $1,000, $1,500 or $2,000. Your loan amount will be based on a portion of your anticipated federal refund. You will not receive a final decision of whether you are approved for the loan until after you file your taxes. Loan repayment is deducted from your federal tax refund and reduces the subsequent refund amount paid directly to you.


Fees may apply for other products and services.


Your loan proceeds will be available on a Turbo® Visa® Debit Card issued by Green Dot Bank, Member FDIC, pursuant to a license from Visa U.S.A. Inc. You may access your loan proceeds by multiple methods without paying additional fees. Find fee-free ATMs to withdraw cash by logging into your account at TurboDebitCard.com. Additional card fees may apply.


You will not be eligible for the offer if: (1) your physical address is located outside of the United States, a US territory, a PO box or a prison address, (2) your physical address or the tax returns you are filing are in one of the following states: IL, NC, RI, VT, (3) you are less than 18 years old, (4) the tax return filed is on behalf of a deceased person, (5) you are filing certain IRS Forms, (6) your expected refund amount is less than $500, or (7) you are using any of our tax products where a professional is completing your taxes. You also must be approved by Green Dot Bank, Member FDIC to receive a Turbo® Visa®Debit Card.


If you are approved for a loan, your tax refund after deducting the amount of your loan and minus any agreed-upon fees will be placed on a Turbo® Visa® Debit Card. If you apply for a loan and are not approved your tax refund will be placed on a Turbo® Visa® Debit Card minus any agreed-upon fees. Approved pending confirmation of loan tier amounts in contract and state licenses approved.


Refund Advance is a service offered by Intuit TT Offerings Inc. (NMLS # 1889291), a subsidiary of Intuit Inc.