Easily and accurately
file your
simple tax
returns for FREE.

E-file with direct deposit
for
your fastest
refund
and
stimulus check.

Get started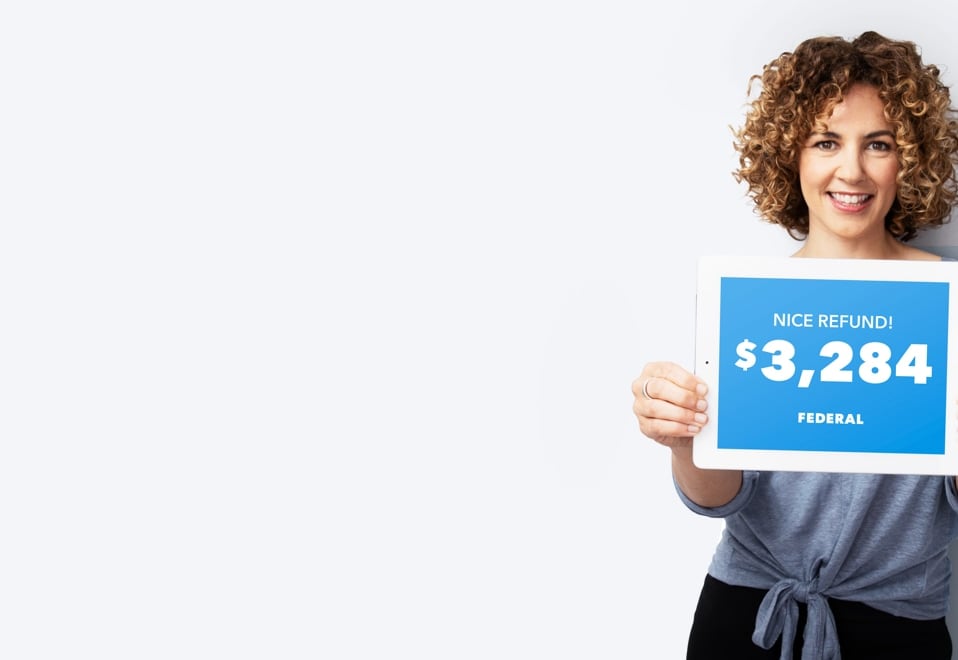 ---
CORONAVIRUS TAX CENTER
---
We've got your taxes covered
during COVID-19
---
Get up-to-date info on tax deadline changes and how coronavirus
(COVID-19) may impact your taxes.
Tell us about you -
we'll recommend the right
tax solution
STEP 1
Select all that apply
STEP 1
Select all that apply
America's #1 brand of tax software
Everything in Free Edition, plus
Maximize your deductions
We'll search over 350 tax deductions and credits to find every tax break you qualify for so you get your maximum refund, guaranteed. Homeowners get step-by-step guidance to help turn their biggest investment into their biggest tax break.
Get homeowner tax breaks

(Schedule A)

Make the most out of charitable donations
Jumpstart your return with last year's TurboTax info or import a PDF of your return from another tax software
One-on-one help for answers, on demand* from a TurboTax specialist
In addition to your credit score, see where you truly stand financially with TurboSM
Included in Free Edition
Easy prep, print, and e-file
Jumpstart your taxes, snap a photo of your W-2
Deluxe includes

Everything in Free Edition, plus
Searches 350+ tax deductions and credits
Maximizes mortgage and property tax deductions
Turn donations into big deductions
Premier includes

Everything in Deluxe, plus
Covers stocks, bonds, ESPPs, and other investments
Auto import of investment income
Covers rental property income and tax deductions
Accurately account for gains and losses from cryptocurrency transactions
Self-Employed includes

Everything in Premier, plus
Guidance for contractors, freelancers, and small business owners
Uncovers industry-specific deductions for more tax breaks
One-on-one help from self-employment specialists
File with confidence—personalized audit assessment to know it's right
Effortless expense, mileage, and job tracking with FREE

QuickBooks Self-Employed

NEW! Easily import your

1099-MISC

with just a snap from your smart phone
Ayuda disponible en Español
Your taxes done right
America's #1 brand of tax software
Ayuda disponible en Español

Real CPAs review your return.
Guaranteed done right.
Connect online with CPAs or EAs
for unlimited tax advice
and even
a
line-by-line review, so you can be
100% confident, guaranteed.
Learn more
Talk to real CPAs and EAs
on demand

Unlimited advice all year
TURBOTAX SELF-EMPLOYED
Every deduction found.
Every dollar you deserve.
The perfect tax solution for freelancers,
independent
contractors, and small
business
owners. Learn more
Uncover industry-specific deductions

Effortless expense tracking,
year-round
You answer simple questions.
We do all the math.

Simply tell us about your year, including what you do for income, if you have kids, if you own or rent, and if you made any charitable donations. We'll guide you through every step.

Capture your W-2
in a snap

Get a jumpstart on your taxes by snapping a photo of your W-2 with your phone or tablet, verify your data, and watch as your information is securely put into all the right forms
for you.

File with
confidence

We guarantee our calculations are 100% accurate. We run thousands of error checks as you go and double-check your tax return before
you file.
We search over 350
tax deductions

We'll find every tax deduction and credit you qualify for to get you the biggest tax
refund, guaranteed.

Every detail
reviewed

Get a comprehensive review of your online tax return before you file so you can be confident nothing
gets missed.

100% accurate
calculations

Our calculations are 100% accurate so your tax return will be done right, guaranteed, or we'll pay you any
IRS penalties.
Big life changes?
We can help

Got married? Had a baby? Bought a home? TurboTax can help
find you any new
tax deductions and
credits personalized to you and your
unique situation.

Guidance in case of
an audit

Every personal TurboTax return is backed
by our Audit Support Guarantee
for free
one-on-one
audit guidance
from a trained

tax professional.

Get your fastest
tax refund possible

File taxes electronically (e-file) and receive email confirmation from the IRS once your online tax return has been accepted. Then, easily track your tax return on your phone with our TurboTax mobile app to see when your refund will hit
your bank account.
Remarkably simple

"The W-2 transfer made the task of
doing my taxes remarkably simple.
Thanks TurboTax!"

Painless process!

"I've received better support, bigger refunds, and better peace of mind with TurboTax. Also, the live help is amazing so I don't feel alone when I have a question!
Thanks again TurboTax."

Great Service

"I talked with a live CPA and was very glad that I did. She answered all of my questions and saved me a lot
of money."

Easy peasy

"I waited until the last minute and feared that filing would take a long time. It took 20 minutes! It was so easy. Thank you."

hannahbananaog

Portland, OR

Best online tax service

"I've never filed taxes any other way. The free services are extensive and the paid ones are extremely worthwhile. TurboTax is simply the best way to do taxes stress-free and securely."

Refund 101

"It removes all the anxiety behind tax season knowing I can do this myself with the confidence of it being quick, accurate, maximized, and plain done right. Highly recommended! Unless you don't like easy…"
*Actual customer testimonials. Photos are illustrative only.
Your security.
Built into everything we do.

Here's how